So the PLAN was for us to go to New Zealand this whole summer because Stephen at the time did not have a job and I had all online classes for the summer! We were so excited unfortunately because of my counselor and how Colleges are just GREAT and SO ORGANIZED and CARE so MUCH about all their students (sarcasm) we can't go. To graduate on time I had to take a lame'o weight training class... yes very important weight training only offered the summer! anyway so way bummed right? well God understood how sad we were.... he decided to bring us this WONDERFUL RAIN! I love it. He made Utah look like New Zealand a little bit longer than usual. Yes no brown mountains yet just BEAUTIFUL GREEN ONES with Misty clouds over them! i love it. It has been so beautiful with the thunder and lighting and rainbows and clouds and sunshine and green... and you understand. God also was kind and has given Stephen a nice paying job and some hope of graduating without taking a class. Now lets hope i can just pass these classes so i do graduate on time and this summer was not a waist (Kinesiology is much harder than I thought). We plan on going on many other trips and eventually New Zealand... some day.
New Zealand photo-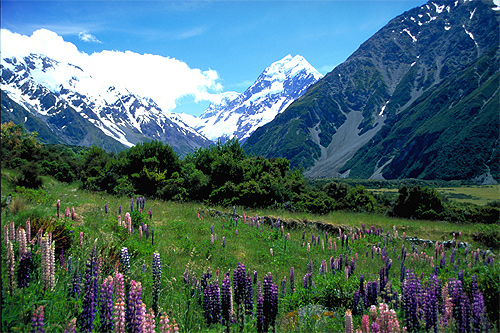 Wasatch Mnts Utah photo
it will do for now!
oh and check back soon we just renovated our bathroom and will post photos!